Technology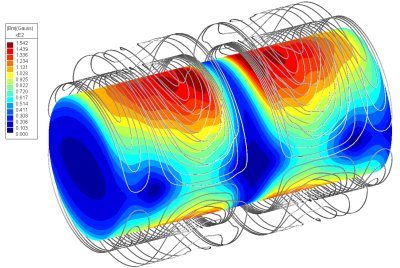 Gradient Coil for Radiation Guided MRI System.
Courtesy of Dr. Shmaryu Shvartsman, Viewray Inc.
Our software is the only clear choice for applications involving the modeling of space around the device: that is what we call "large open regions".
Since 1984, INTEGRATED has offered an innovative, world-class suite of complete solutions for engineering and scientific designs involving multiple disciplines - creating simulation software programs that analyze a full spectrum of physical problems.
In many cases, it is a combination of variables that affects models rather than just the electromagnetic or particle trajectory field. When such a combination of factors is involved, thermal and power systems design analysis is also required.
INTEGRATED's software delivers a wide range of advantages:
In addition, experience the speed of our multithreading (or parallelization) capability, included in the software package at no extra cost.
Maximum Versatility of Field Solvers:
Choose the Right Tool for Your Application
There is no need to choose just one. You can have both in the same package.
INTEGRATED offers you both solvers, Boundary Element Method (BEM) and Finite Element Method (FEM), included in the same tool, at no extra charge and without the need to buy extra pieces of software.
You can find the best solution for your own application, and our technical experts will be there to guide you in case you need support.
By having two different solvers in the same program, you can independently verify the solution through two different methods. Thanks to this "all included" approach, you can avoid the time and effort of verifying results through a second program.
At INTEGRATED we are proud of our customer service team and offer the highest level of customer service and support in the industry. From your very first contact with our experts, all with PhD and Masters degrees, you will be guided through all your electromagnetic and particle trajectory analysis needs.
Our software comes complete and ready to use. No need to purchase additional modules or options; all programs are fully functional CAE tools.
INTEGRATED's commitment is to provide designers with the most sophisticated analysis tools to assist them in the creation of the future.
Get in contact for an evaluation: whatever the level of complexity, we can solve your model. Forget generic canned demos – through tailored evaluation, we can show you how to get the most accurate results from your specific design.