Events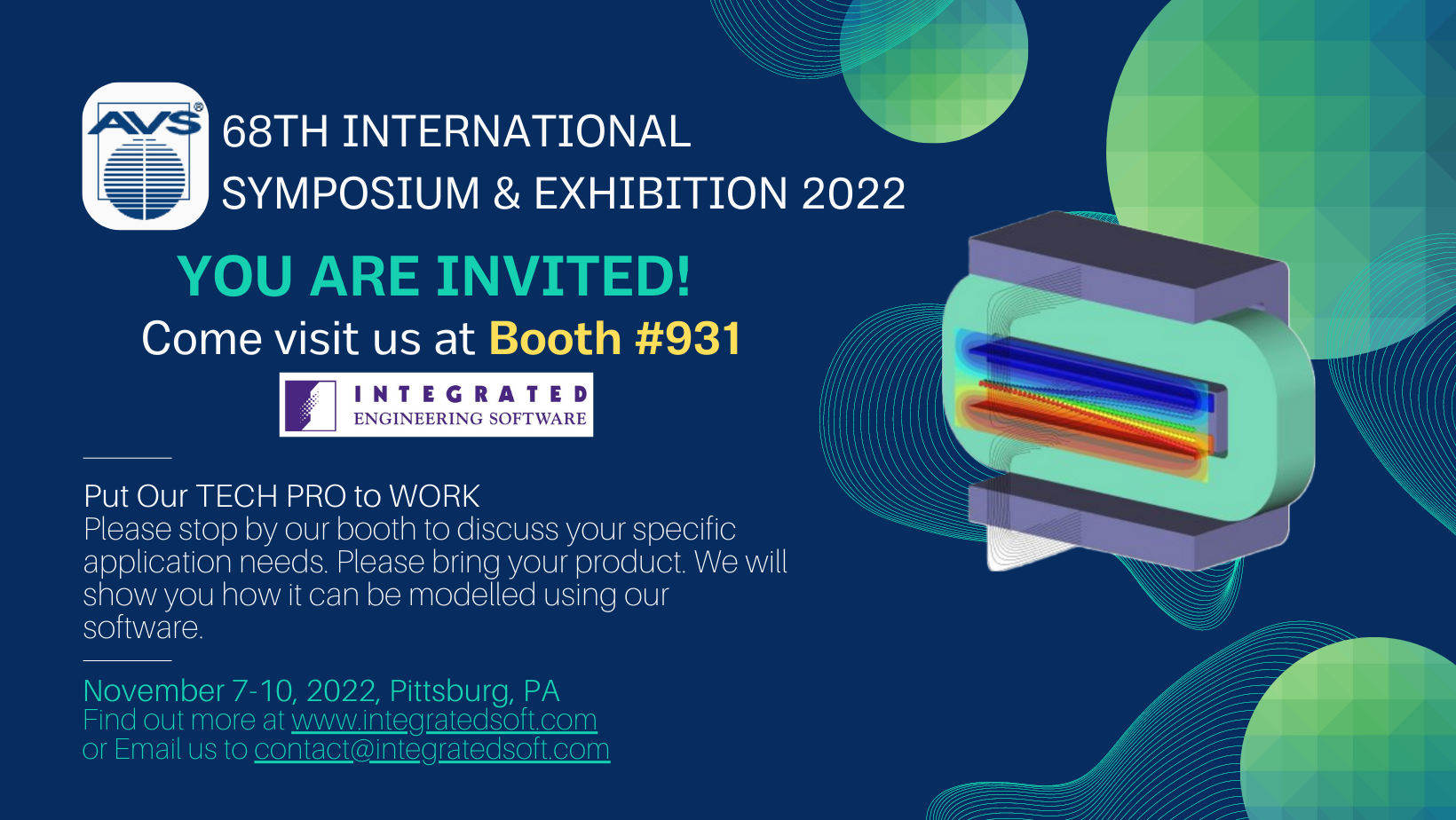 AVS 68th International Symposium & Exhibition 2022
November 7-10, 2022
David L.Lawrence Convention Center, Pittsburgh, PA
Booth #931 - Integrated Engineering Software

We will be exhibiting at AVS 68th International Exhibition from November 8-10, 2022. If you are attending this exhibition, please stop by our Booth #931 to discuss your specific design needs with our technical expert. Bring your product and we will show you how it can be modelled using our software.

We would like the opportunity to show you how to improve your productivity and product quality while reducing engineering time and costs in the design of electromechanical components.


More Info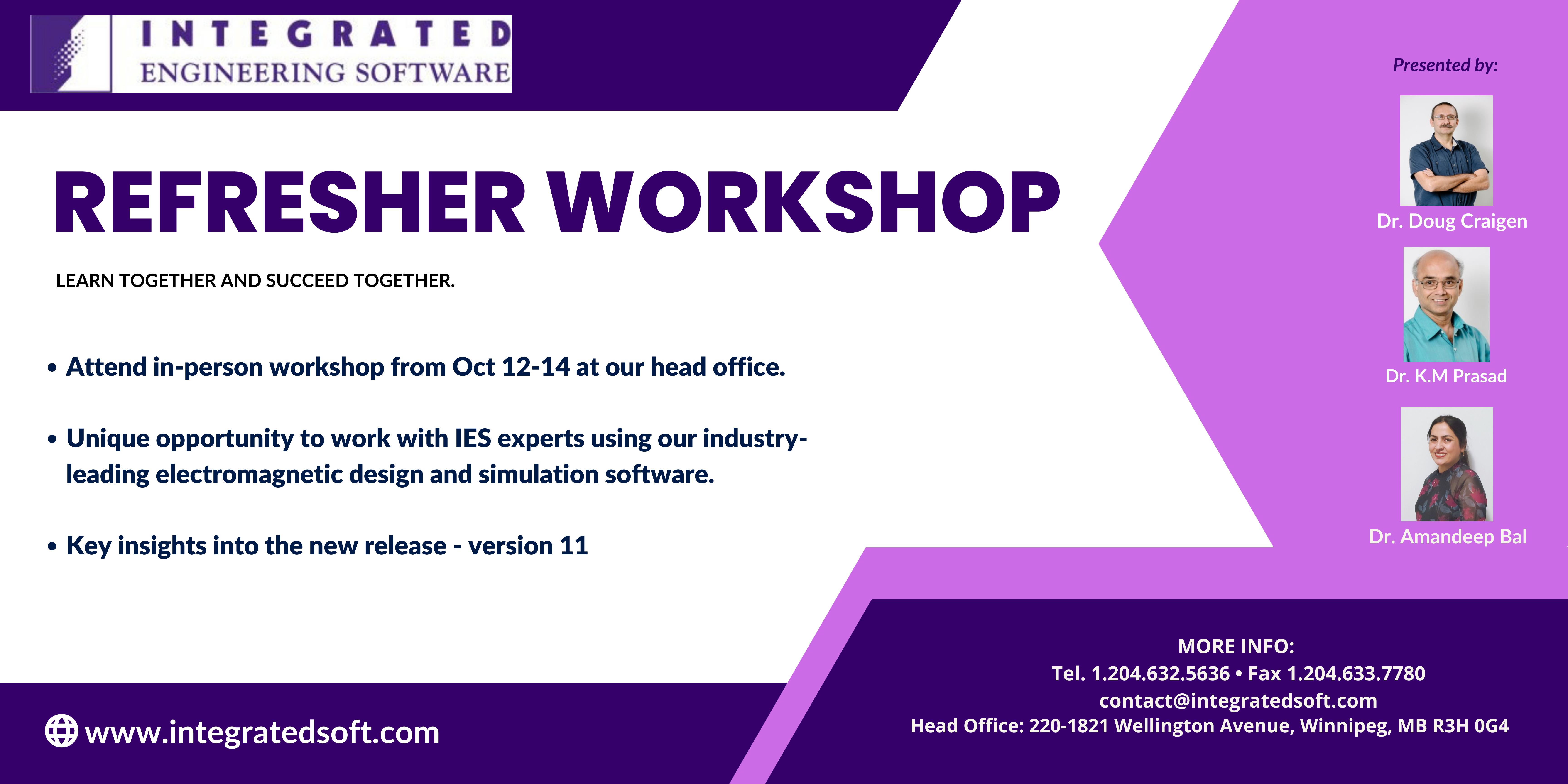 Refresher Workshop
October 12-14, 2022
220-1821 Wellington Avenue, Winnipeg,Canada
Integrated Engineering Software - Head Office

Our workshops are designed to further your understanding and use of all of Integrated's electromagnetic software programs.

To support the release of our new version 11.1, Integrated will be conducting specially designed workshop at our head office. Our agenda will advance your use of the software to new levels that will inspire you to design faster and with more confidence than ever before. This workshop will give you key insights into the new release and will empower you with a greater knowledge of your capabilities with the software. Key Integrated experts will be on hand to present and answer all your questions. We strongly encourage your participation in this event.

Register Now
Contact Us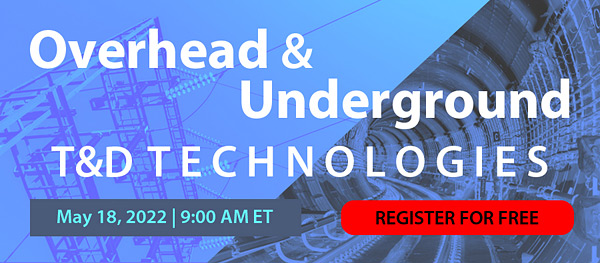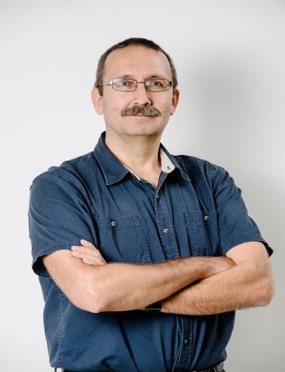 Presenter:
Dr. Doug Craigen
"Be Brilliant" Webinar Series
May 18, 2022
Live Online Event, Webinar
Electricity Today T&D Magazine
- Live Online Forum
INTEGRATED Engineering Software is pleased to announce our presence at Electricity Today T&D Magazine - Live Online Forum held on May 18th, 2022

Our own Dr. Doug Craigen will be presenting a talk on Computer Aided Designing of Gaps and Terminations in High Voltage Applications which will include information about common approaches such as Rogowski and Borda profiles, then show how even some simple spreadsheets can help design work with those, and end with showing how simulation software can take the design to a higher level.

Register for FREE