In order to extend your evaluation, please follow the steps below: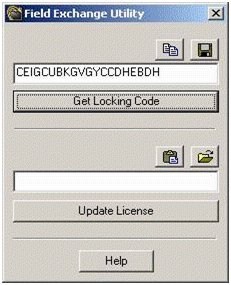 1) – Please make sure you only attach a single security key to your computer. If you have multiple keys, please disconnect them from your computer.
2) – In order to receive a new license code, please run FieldExUtil.exe program to generate a locking code.
FieldExUtil.exe is located on the program CD under Sentinel Driver\Field Exchange Utility directory.
This utility is also available from our website at Useful Downloads under "Field Exchange Utility".
Run FieldExUtil.exe program and click on "Get Locking Code" button. Use "Copy to Clipboard" button above the locking code text box to copy the locking code and paste it in an email or use "Save Locking Code to File" button to save locking code to a file and email the file to us.
NOTE: Please do not close the program, as we will send you a license code for you to update your key.
3) – Once you have received the license code from us, please copy and paste the license code in the text box above the "Update License" button.
If the license code update process is successful, you should see the following dialog box.