Sensors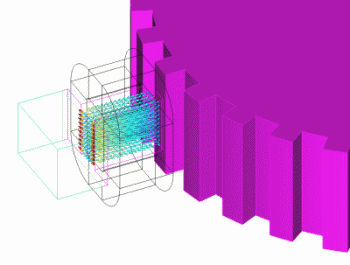 Variable reluctance sensor arrow plot
3D Simulation of Permanent Magnet Sensors using
AMPERES - Part 1
INTEGRATED's suite of CAE software products provides a complete toolbox for sensor designers who must consider electromagnetic effects in their systems.
Programs that cover the range of physical systems including magnetic, electric, eddy current and high frequency field solvers
Mathematical Solver methods optimized for each particular application
Direct import of models from CAD Partners including: Autodesk, PTC, Solid Edge and SolidWorks
STEP, SAT and openNURBS (.3DM) import from general 3D CAD programs
Parametric utility for prototype testing and optimization
API and Scripting for fast automated custom designs
Sensors are the key components of measurement, monitoring and control systems. In particular the precision of a control system cannot be greater than the precision of the sensor used to measure the controlled variable.
Electromagnetic principles are at the heart of many types of sensor systems. In some cases the variation of an electromagnetic parameter is directly related to the measured quantity as in the case of a capacitive position sensor. In other cases electromagnetics are used indirectly as in the case of the magnetic pickup of a turbine flow meter.
Even in cases where electromagnetics play no role in the measurement process, they may be an important consideration for the safe operation of the system as in the case of high voltage systems which must be protected by adequate insulation levels.
CAE software is an essential design tool for any sensor system that requires analysis of electromagnetic fields. Without the insights that only CAE software can provide, the design process will almost always revert to inefficient and expensive trial and error prototyping.
---