Transmission Lines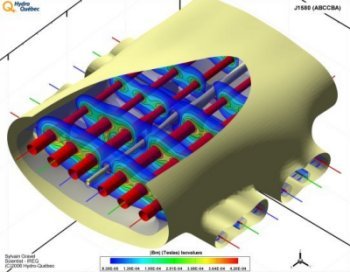 Magnetic flux density surfaces around a complex distribution
power lines configuration. Courtesy of IREQ.
Two conductor transmission lines and Multiconductor Transmission Lines (MTL) can be analyzed using ELECTRO . Capacitance, Inductance, Conductance, and Characteristic Impedance matrices of an MTL can be calculated. Eigen values and velocities of different propagating modes in an MTL are also obtained. There is no limitation on the presence of number of dielectric materials in the model and any arbitrary 2D-cross section of the transmission can be handled by our CAE software.
The Capacitance and free-space Inductance matrices of a 3D transmission line can be calculated using COULOMB .
The Inductance Matrix with linear permeable materials can be calculated by AMPERES (3D simulation) and MAGNETO (2D/RS).